ReThink Robotics Baxter Dual-Arm Robot 2x 7 DOF Arms + Vacuum End Effector Kits
Product Description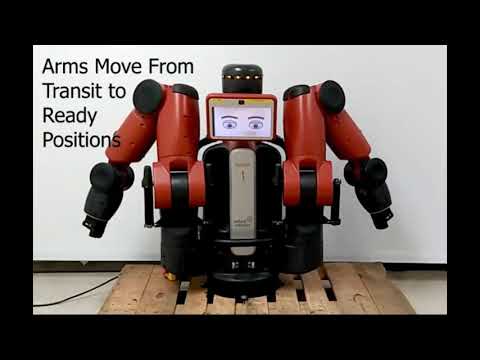 ReThink Robotics Baxter Dual-Arm Robot 2x 7 DOF Arms + Vacuum End Effector Kits
Video will open in a new window
Using the eBay App? Paste link into a browser window:
Manufacturer: Rethink Robotics
Model: BR-01
Condition: Used. This robot is in Good cosmetic condition with only minor blemishes from prior use. There are some scratches on the plastics here and there. A few screws show light oxidation. The display has some brown discoloration on the bottom, giving Baxter's "face" the appearance of a mustache. One of the control stations has a non-standard knob as shown. There is a label on the display saying "Electric gripper firmware not updated" and we do not know what this means. The photos show the exact item(s) the buyer will receive.
Notes: This cobot is in Good working condition. We ran the Basic Calibration and Spring Calibration programs without any difficulties. We verified all axes will move both during their automatic wake-up sequence as well as with use of the zero-G mode training cuffs. The buttons on the training cuffs are hard to press and sometimes can be balky in use. The head swivels properly as well and the control interface stations all worked as expected. Motions are accompanied by the typical "whirr-whirr" noise. No other testing was done. No manuals, cords/cables, or additional items are included if not listed or shown.
Included:
(1) ReThink BR-01 Baxter Cobot
(5) 00038636 End Effector Bases
Miscellaneous accessories as shown for DIY Vacuum End Effectors
Specifications:
Manufacturer: Rethink Robotics
Model: BR-01
Baxter dual-arm cobot
P/N: 00012541
(2) Robotic arms with (7) degrees of freedom each
Designed to be bolted to a bench or pedestal
Designed for industrial use, popular as a robotics teaching aid
Safe by design, for working near humans without caging
Trained, not programmed, for faster setup
Force-sensing joints
Zero-G mode for easy human-guided motion and teaching
Camera and infrared distance sensor in each cuff
Condition ring gives red/green color-coded status at a glance
Attention ring shows where Baxter senses you nearby
Color LCD display "face"
Navigator interface controls on each arm and each side of the chassis
Display can swivel through 180º to face users
Camera mounted over the display
5lbs maximum payload
maximum reach 1210 mm
Single-phase AC power input 100-240V 50-60Hz 6A maximum
30 Day Guarantee
Guaranteed to be as described
Can be returned for flaws or malfunctions that were not disclosed
CDN Systems LLC, DBA Doug Deals, is not an authorized distributor or affiliated with the manufacturer of this product. Original manufacturer's warranty does not apply.
Find Similar Products by Category