Koh Young aSPIre 3D Solder Paste Inspection Station Machine Inspector 2008-Parts
Product Description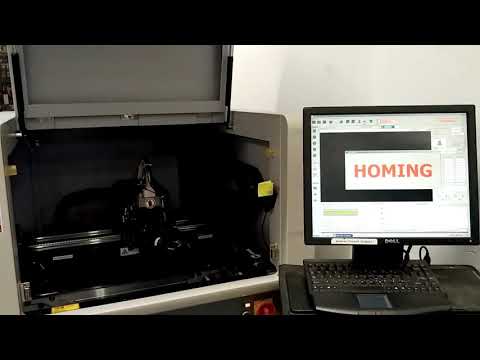 Adept PA-4 Robot Controller +MV-4, 10350-01064 AWCII-060, EJI, (2) Dual B+Amps
Video will open in a new window
Using the eBay App? Paste link into a browser window:
Manufacturer: Koh Young
Model: aSPIre
Condition: For Parts or Not Working. This system is in Fair cosmetic condition. The outside has minor scuffs/scratches from prior use, as well as residues from adhesive labels. The inside looks clean. The sensor on the infeed side of the conveyor has a big scratch and a crack but it still works. There are a few connectors dangling loose by the front door and on the head, we think these are related to measuring system parts that are missing. As that is the point of this machine, we are listing this unit AS-IS for parts. The photos show the exact item(s) the buyer will receive.
Notes: This system is in PARTIAL working condition. We were able to get it to load its software and home all 3 axes. During homing and sometimes after, various axes would set limit errors, we are not sure why. The conveyor width adjustment works. The rail rises and lowers on command. The board sensors work. We were NOT ABLE to get the camera to show an image onscreen, but we did see its red and white illuminators come on. When the computer first loads Windows there is an error about trying to connect to a network drive that is no longer attached. Clicking the epmSPI shortcut on the computer desktop opens a program which only says Error 7: HASP HL Key not found. No other testing was done. This machine is not complete and is sold AS-IS! No manuals, cords/cables, or additional items are included if not listed or shown.
Included:
(1) Kohyoung aSPIre Solder Paste Inspection System
Specifications:
Manufacturer: Koh Young Technology, Inc.
Model: aSPIre
Automatic solder paste inspection system
Maximum PCB size 510 x 510 mm
Automatic width adjustment
Shadow-free measurement
Power: 220V 1phase 50/60Hz 5A plus compressed air
Manufactured: 2010
Incomplete, sold AS-IS
Missing the 3D measurement parts; 3-axis motion parts move but throws errors
AS-IS
No returns - No refunds - No exchanges
By purchasing this item, you are agreeing to not seek reimbursement should the item not function to the manufacturer's specifications.
Read the notes carefully to ensure you are buying something you can use
CDN Systems LLC, DBA Doug Deals, is not an authorized distributor or affiliated with the manufacturer of this product. Original manufacturer's warranty does not apply.
Other Details
Condition:
For Parts or Not Working
Find Similar Products by Category